Before you continue reading this entry, I'd like you to watch the video below.
That's Yoko Ono with her Performance Art entitled Cut Piece.
For our Experimental FIlmmaking Class, we were tasked to create a Performance Art as well. Nailen Garalde (my partner) and I were inspired by Yoko Ono's Performance Art so we got our inspiration from her for our output.
We decided to pay homage to Yoko Ono but this time instead of clothes being cut it would be hair.
Our Performance Art happened awhile ago afternoon at the SDA Cafeteria.
Basically, I sat down at one area of our cafeteria while random students approached me and took turns in shaving parts of my hair until I was completely bald.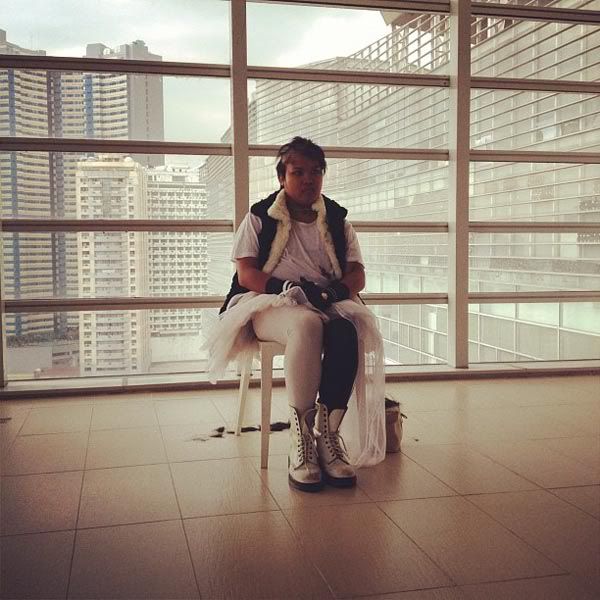 Here's an Instagram photo that Bjorn Bedayo took during the performance.
I had mixed emotions while I was sitting on that chair. Deep inside, I was really nervous and anxious. I even wanted to cry in the middle of the performance! But, I sucked it all in for the sake of art. It's not my first time to be shaved but it's my first time to have random people do it instead of an actual barber. It was quite exhilarating and fun!
White Hybrid Shirt-Paradigm Shift | White Tutu-House of Fab | Two-Toned Leggings-Proud Race |
Neon Green Hinged Choker-Superfluosly | White Boots-Doc Martens
I can't wait to show you guys the final film once it's finished!